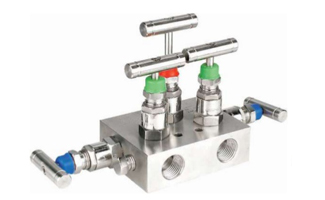 ---
Stainless Steel 5 values Straight Type | Stainless Steel 5 Valve Manifolds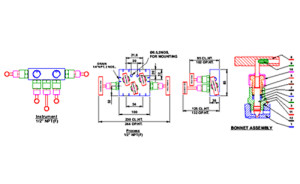 Stainless Steel 5 Values Straight Type
NO
DESCRIPTION
QTY
MATERIAL
1
BODY
1
SS 316
2
BONNET
1
SS 316
3
STEM
1
SS 316
4
BONNET PUSHER
1
SS316
5
LOCK NUT
1
SS 316
6
PACKING
1
TEFLON
7
WASHER
1
SS 316
8
HANDLE
1
SS 304
9
GRUB SCREW
1
SS
10
DUST CAP
1
PLASTIC
11
LOCKING PIN
1
SS 304
12
BONNET SEAL
1
TEFLON
FEATURES :
5 VALVE MANIFOLDS (STRAIGHT TYPE)
5 valve manifolds are designed for remote or separate mounting. Connecting from process side 1/2″ NPT(F) and Instrument side 1/2″ NPT(F) Connecting system impulse lines and transmitters, having simple two valves configuration which allows for easy block or Isolate, Bleed or Vent valve calibration of a static pressure transmitter or gauge.
Bleed/vent connection with s.s. plug will be provided on request.
Approximate weight : 0.95 Kg (2.1 Lbs.).
Heat code traceability
BONNET ASSEMBLY
Screwed bonnet design.
Bonnet-back seated blow out proof.
Spindle-Ground and thread rolled.
Spindle tip-Non rotating tip shut off type – stellited,Regulating-stellited and soft seated.
Bonnet pusher – silver plated for anti galling freezing for
increased stem cycle life.
Dust cap protects stem threads from externals contamination.
Leak tight seal with low operating torque.
---
---